Guest Teacher Workshops
20 plus years of workshops delivered in Colorado (Boulder, Denver, Colorado Springs, Ft Collins, Aspen, Grand Junction, etc.), across the USA (Fairfield & Chicago, Il; Madison, WI; Santa Fe, NM; Portland, OR; etc.) & Europe (Denmark, Sweden, Italy, Germany, etc.)
Saturday Series in September 2019 – Ft. Collins Tango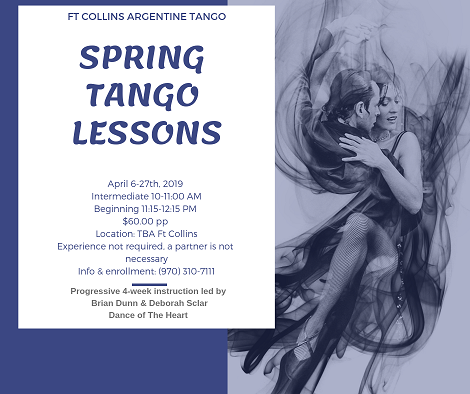 September 7, 14, 21, 28 – Beginner & Intermediate Tango Classes
Start the fall season out right! Join us in Ft. Collins this September for another inspiring series of beginning and intermediate level tango classes.
What you can expect: great material, delightful fellow students, internationally-vetted instructors who deliver carefully crafted series with a sense of humor and passionate commitment to prepare students to successfully meet the pleasures, challenges and delights of Argentine tango social dancing…AND it's affordable yet packed full with value! Lessons are designed for absolute beginners through intermediate/advanced students.
Beginning students to Argentine tango, we welcome you to the Ft. Collins Argentine tango community! Your four-week series of lessons and the journey into the fascinating world of tango begins Saturday, September 7, 2019!
DATES:  All Saturdays in September 2019:  7, 14, 21, 28
TIMES:  10-11am Beginner & 11:15am-12:30pm Int/Adv
LOCATION: Unity Church of Ft.  Collins, 1401 W. Vine Drive, 80521
COST: Series fee TBD (non-refundable), payable by cash or check (drop-in or pre-registration available)
WHAT TO WEAR/BRING:  We recommend comfortable, casual clothing (possibly with a touch of elegance) that you can move in easily.
Note: To intermediate/advanced level students, we recommend taking both levels to support your own growth. This has the added benefit of supporting your community because your presence encourages newcomers. To brand new or returning beginners, we recommend taking introductory classes MANY times, especially AFTER you become a skilled dancer because reinforcing your fundamentals ensures continued development, growth and refinements that lead to the joys of ultimate creativity and expression in Argentine tango…in short, MASTERY!