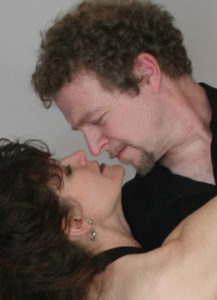 Brian Dunn & Deborah Sclar combine their passions for performing and teaching Argentine Tango music and dance under the company name "Dance of the Heart."
Established in December 1997, Dance of the Heart (DoTH) is based in Boulder, Colorado offering weekly local tango group classes and private lessons, performances and tango dance events throughout the front range Denver/Boulder metro area.
The DoTH teaching and performing schedule includes a growing list of invitations to university campuses, symphony orchestras, ballet companies, tango festivals and communities throughout the U.S., in Buenos Aires, Argentina and Europe.
Their TangoConnection™ Series, TangoIntensivo™ Sessions, TangoEncuentro™ Festivals, special topics advanced classes and private lessons are carefully crafted based on almost three decades of continuous tango teaching locally and internationally. Brian & Deb constantly refine the delivery of their material to accommodate the insights gained from consistent study with many of the top tango maestros in the world.
From their years of experience as teachers and performers, they distill the excitement, mystery and magic of tango, conveying the vibrancy, intensity, humor, sophistication and sensuality contained within this beautiful art form so it becomes accessible to students and audiences alike.
DoTH performs live Argentine tango music and dance in a wide variety of venues and for an increasingly diverse sector of clients.  Brian and Deb are available for bookings that are tailored easily to meet your specific needs. Some productions over the years have included corporate events, private parties, educational and theatrical venues, festivals, ballets, symphonies, fundraisers, etc. Let us help you fulfill your tango plans!